Box can be accessed online by logging in to the Rutgers CAS portal.
Visit the Getting Started page for information on how to active your Box.
This page contains some basic tips for using Box via the Web.
Please see Box's Getting Started for New Users page for full information.
Box for the Web Tips
Place items you marked as Favorites, plus your Recents, for quick access on your Box home page.
Sort files by name, date, or size directly within the file list headings.
View item details including collaborators, its shared link, metadata, etc., by clicking the file or folder icon once.
Open a folder by clicking its name or double-clicking its icon.
Preview a file within the folder by clicking on its file name. You will also see the version, description and access statistics.
Copy and Paste is supported within the new interface by clicking (CTRL-C) + (CTRL-V).

You can copy multiple files from one Box folder to another using keyboard functions.
You can also copy items from your computer and paste them into a Box folder.

Search and filter content by type, size, time, owner and metadata using Box's refined search engine. For instance, if you type the name of any of your documents, and filter the search by file type (e.g., a Word document) and the Date Updated (e.g., "this past week"), all of your Microsoft Word documents you have edited or opened within the past week will be returned.
Box for the Web features a basic menu where you can access Box features.
Uploading Files
Upload files and folders by dragging, then dropping them into the designated area. You may also "click here," or use the Upload button on the top right corner to manually select folders and files.
Access content organized in different ways from the left column on the main page, including:
Content
Recents
Synced
Notifications, such as an invitation to access a file
Admin Console, where you can create and manage users, external users, groups and their settings for your account. You can drag folders for upload from your device or click and select them manually.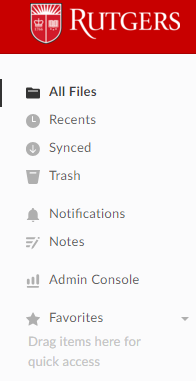 Add New Items
The New button allows you to create new:
Folders
Bookmark items
Box Notes
Integrated apps through Box Tools
Helpful Links
File Types Ignored or Blocked by Box Sync and Box Drive